Austin McCoy is a prisoner and car thief in part 1 at the police station. He had a very short appearance. He was arrested for stealing a '76 Chevy Nova and was taken to jail, and in behind the scenes he was seen with the creeper as the creeper had captured him, it was not shown, but even though he did get captured he managed to survive because the creeper didn't want anything from him so he \just dropped him down and went up stairs. Austin McCoy was wounded in the process though./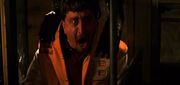 Ad blocker interference detected!
Wikia is a free-to-use site that makes money from advertising. We have a modified experience for viewers using ad blockers

Wikia is not accessible if you've made further modifications. Remove the custom ad blocker rule(s) and the page will load as expected.