Kimball "Big K" Ward is one of the teenager 17 years who was in the bus in Jeepers Creepers 2. He is portrayed by Kasan Butcher.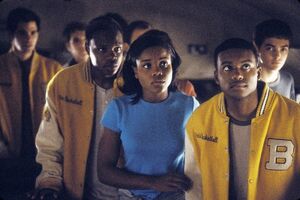 Jeepers Creepers 2
Edit
Big K is one of the Bannon High basketball players who becomes standed on east 9. He is best friends with Double D and usually sides with him when it comes to decision making. When The Creeper began sniffing out the students among the school bus he did'nt show the least bit of interest in Big K even having him move aside as he looks at Double D as his next target. Big K is last seen running from The Creeper through a wide open field along with his other classmates.
Ad blocker interference detected!
Wikia is a free-to-use site that makes money from advertising. We have a modified experience for viewers using ad blockers

Wikia is not accessible if you've made further modifications. Remove the custom ad blocker rule(s) and the page will load as expected.